2022 Insurance Barometer Study
Owning Life Insurance Provides a Clear Path to Financial Security
The 2022 Insurance Barometer Study, conducted annually by
Life Happens
and
LIMRA
, reveals that financial security is a concern for all generations, but one that can be addressed with a stronger understanding of life insurance and its value. Still, misconceptions around life insurance persist among consumers, with 80% overestimating the cost of a life insurance policy. This problem is also exacerbated by a general discomfort with end-of-life discussions surrounding death and financial planning, allowing the life insurance need gap to persist.
Establishing financial security is a challenge spanning all generations
Financial insecurity is highest among Gen X (49%), followed by Millennials (44%), Gen Z (42%), and Baby Boomers (33%). And according to the survey, most households have not prepared for the loss of a primary wage earner.
1 in 10 respondents report they'd feel financial strain in one week if their household's primary earner died
Over 2 in 5 parents say it would take less than six months for financial hardship to set in
Only 1 in 5 respondents say they have a safety net of five years or more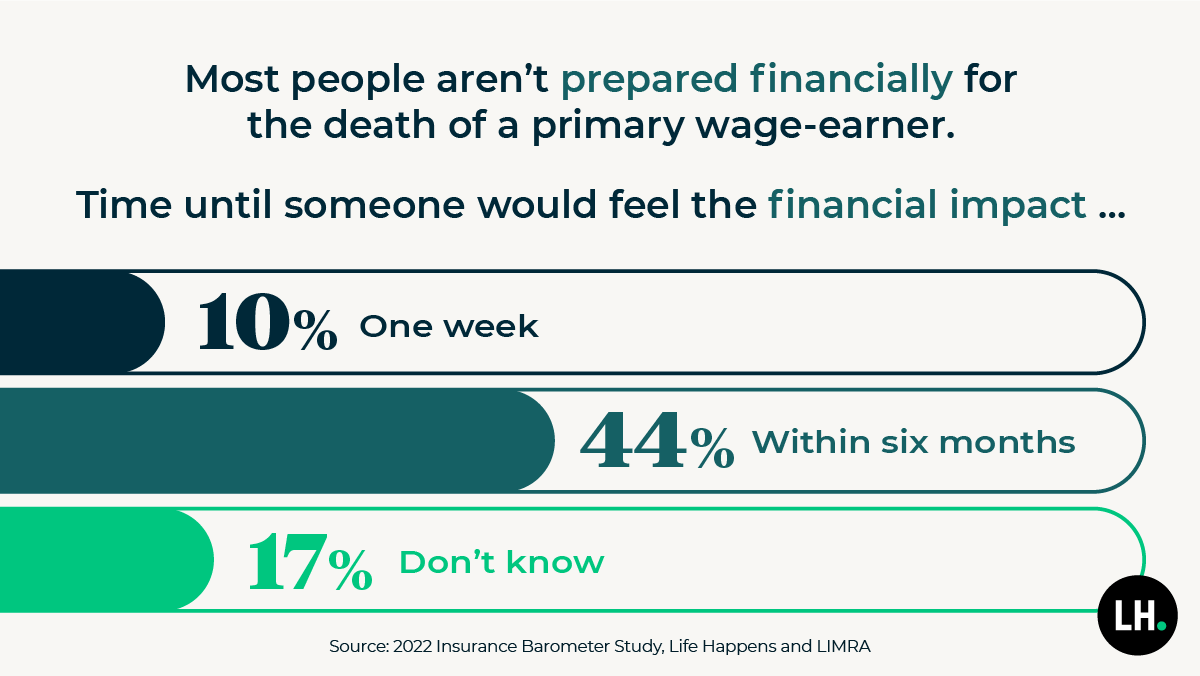 We know we need life insurance, yet the need gap persists
Life insurance is a key element in feeling financially secure, yet the need gap – what people have vs. what they say they need – is at an all-time high (18 points) and more than double what it was 12 years ago.
68% of life insurance owners feel financially secure compared to just 47% of non-owners
The unmet need for coverage rose significantly with the pandemic and remains elevated in 2022, revealing the lasting impact of COVID is still felt by many.
31% of respondents say they are more likely to buy life insurance in 2022
A lack of knowledge may lead some to avoid important conversations
Consumers, especially Millennials and Gen Z, report feeling uncertainty about life insurance, which may be why some haven't gotten coverage.
Almost half (42%) of respondents say they are somewhat or not at all knowledgeable about life insurance
Millennials (16%) and Gen Z (16%) are more likely than other generations to say they would not qualify for coverage, which is often not the case.
At the same time, respondents are largely uncomfortable talking about end-of-life planning with their loved ones, revealing the importance of education and the need to reframe conversations about life insurance to focus on long-term health and wellness in order to build trust and close the need gap.
We're committed to educating Americans about life insurance
At Life Happens, we establish and lead several annual campaigns, including Life Insurance Awareness Month and the
Help Protect Our Families
campaign, to help people overcome perceived barriers and motivate them to purchase life insurance to protect their loved ones financially. Check out our free
Life Insurance Needs Calculator
to evaluate your own coverage needs and take action.