Arlington, Va. and Windsor, Conn. — Over the past decade, U.S. life insurance ownership has fallen 9 percentage points to 54%, according to the 2020 Insurance Barometer Study. Researchers attribute the drop in ownership to a broad decline in employer-paid group life insurance benefits over the past 10 years (chart).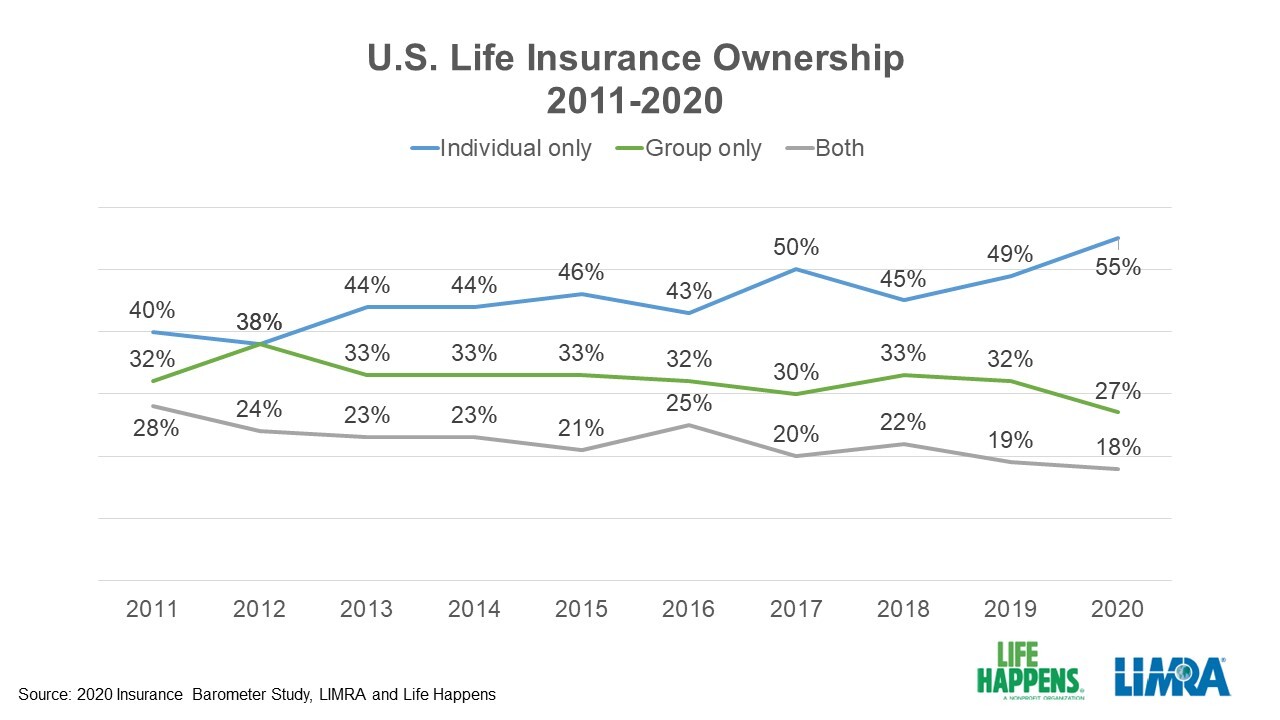 Despite this drop in ownership, the intent to purchase life insurance is at an all-time high with 36% of Americans saying they intend to purchase life coverage in the next 12 months.
"While we are encouraged by the increased interest to purchase life insurance coverage and believe the COVID-19 pandemic may also bolster the perceived need for life coverage and increase purchase intent, our past research shows just a fraction of people actually follow through and buy the coverage they need," said Alison Salka, Ph.D., senior vice president and head of LIMRA research.
One thing that deters consumers is their perceived cost of life insurance. Since the study began, consumers have consistently overestimated the cost of life insurance. The study shows more than half of Americans estimating the cost of life insurance at more than three times the actual cost. Younger Americans are likely to estimate the cost to be as much as five times the actual cost.
"Educating consumers about the value and importance of life insurance—while also providing them information about the true cost of purchasing coverage—will help get more consumers to buy the coverage they say they need," said Faisa Stafford, LUTCF, president and CEO of Life Happens. "The COVID-19 pandemic has demonstrated how precarious life can be and how important life insurance can protect against the unknowns. The study finds 16% of consumers—41 million Americans—say they need life insurance coverage but don't have it. It's our job to help consumers protect their families and businesses' financial future and life insurance is one of the greatest ways to do this."
Desire for Online Buying Expands
Historically, the majority of Americans have preferred to purchase life insurance in person with an agent or advisor. As use of technology has become more ubiquitous and people have grown accustomed to conducting more transactions online, this trend has shifted. In 2011, 64% of consumers said they preferred to buy in person; by 2020, just 41% felt this way. It is not surprising that the preference for online purchasing doubled from 17% in 2011 to 29% in 2020.
"Over the past several years, life insurers have expanded their simplified and automated underwriting practices to make it easier and more cost effective to buy life insurance online," noted Salka. "In recent months as we were practicing social distancing, our research showed an increase of online applications, illustrating the importance of this option to buy coverage."
The 2020 Insurance Barometer Study shows half of Americans are more likely to buy life insurance if simplified underwriting is used. The top reasons consumers give for their wanting to use simplified underwriting are:
• Is fast and easy – 66%
• Is unbiased and objective – 66%
• Provides transparent explanations of risks and pricing – 58%
• Avoids medical exams, blood and urine samples – 56%
• Avoids the need to see a doctor – 55%
Increased Use of Social Media
While in-person sales have declined, the use of social media has substantially increased. Almost half of the consumers surveyed say they have used social media to gather information on financial topics, companies or advisors. Facebook and YouTube are the most used sites mentioned by social media users.
In fact, just from 2019 to 2020 use of both Facebook and YouTube for financial topics has doubled. The number of consumers looking for an advisor is also growing with one in four consumers saying they use social media for this purpose.
Just under two thirds (62%) of those using social media sites for finance-related topics are using it to read other people's reviews and comments on their agent(s). Almost as many are looking for information on product and services (59%).
"Leveraging social media is now indispensable for financial professionals to market themselves and engage with consumers—especially with younger generations and during this time where financial professionals aren't able to meet face-to-face with clients," Stafford commented. "Forty-five percent of consumers who use social media leverage the tool to keep in touch with their agent or advisor."
The Insurance Barometer Study tracks the financial perceptions, attitudes and behaviors of consumers in the United States, with an emphasis on life insurance. LIMRA, a not-for-profit research trade association, and Life Happens, a non-profit educational organization, jointly conducted the study.
Study Methodology
The Insurance Barometer is an annual study that tracks the perceptions, attitudes and behaviors of adult consumers in the United States. In January 2020, LIMRA and Life Happens engaged an online panel to survey adult consumers who are financial decision makers in their households. The survey generated over 2,000 responses. Models used in the sample development include a propensity model to adjust for sample selection error, and weighting models to adjust for sample response error.
About Life Happens
Life Happens is a nonprofit organization dedicated to helping consumers take personal financial responsibility through the ownership of life insurance and related products. The organization does not endorse any product, company or insurance advisor. Since its inception in 1994, Life Happens has provided the highest quality, independent and objective information for people seeking help with their insurance buying decisions. To learn more, visit www.lifehappens.org.
About LIMRA
Serving the industry since 1916, LIMRA, a worldwide research, consulting and professional development organization, is the trusted source of industry knowledge, helping nearly 600 insurance and financial services companies in 64 countries. Visit LIMRA at www.limra.com.