Arlington, Va. and Windsor, Conn. — Almost half of Americans (47 percent) say they are more likely to buy life insurance using simplified underwriting, which generally means getting coverage more quickly and without a medical exam*, versus traditional underwriting approaches, according to new findings from the 2019 Insurance Barometer Study.
To broaden their reach and address declining ownership numbers, many life insurers have leveraged advances in technology, like advanced analytics, Big Data and artificial intelligence, to streamline the underwriting process and better meet the needs and preferences of today's consumers. Since the inception of this study, life insurance ownership has declined from 63 percent in 2011 to 57 percent in 2019.
The Insurance Barometer Study tracks the financial perceptions, attitudes and behaviors of consumers in the United States, with an emphasis on life insurance. LIMRA, a not-for-profit research trade association, and Life Happens, a non-profit educational organization, jointly conducted the study.
Ease of Simplified Underwriting
The current study finds that simplified underwriting may impact a consumer's likelihood of completing the life insurance purchase. Nearly two thirds (63 percent) of those who are interested in purchasing life insurance through simplified underwriting are drawn to the speed and ease that it offers. Other appealing benefits include:
Risk and price transparency (57 percent)
Unbiased and objective application process (57 percent)
Eliminates the need to see a doctor or take medical exam (56 percent)
"Two-thirds of Americans recognize they need life insurance yet many do not have adequate coverage to protect their families. As the industry continues to find innovative ways to improve the speed, ease and transparency of the life insurance purchasing process, we hope it will encourage these individuals to purchase the coverage they need to protect their families," said James Scanlon, senior research director, LIMRA Market Research.
Combination Products Are Attractive to Consumers
The market for life insurance products that combine other benefits, such as long-term care provisions, is still growing. The study finds the majority of Americans (53 percent) are at least somewhat likely to purchase a combination life insurance product. One in five (roughly 42 million Americans) say they are "very" or "extremely" likely to buy a combination product.
The top reason people say they would buy a combination life product is to lower the possibility that long-term care expenses would deplete their savings (36 percent). One in three consumers are attracted to the flexibility and value of the product, allowing them to address multiple financial risks simultaneously and saving the expenses associated with separate policies.
Knowledge Gap Associated With Lack of Ownership
The study also examined what consumers say they know about different insurance products, along with their perceived need of these products and whether they own them. Overall, consumers are most likely to say they are knowledgeable about life insurance (46 percent). Knowledge levels drop significantly for disability insurance (38 percent), long-term care insurance (35 percent), and annuities (35 percent). The study shows there is a correlation between lower product knowledge, and the gap between perceived need and ownership for the product (see chart).
"It's clear that education about life insurance and related products is key to helping people get coverage. If they don't understand what it is and more importantly why they—personally—need it, they won't be motivated to buy the coverage," says Faisa Stafford, president and CFO of Life Happens. "That's an important reason we at Life Happens are so focused on our consumer-education efforts, as it has an ever-widening circle of benefit."
General lack of understanding leads to insufficient coverage. For instance, when asked how much a $250,000 20-year level term life insurance policy would be for a healthy 30-year-old, the median estimate was $500—more than three times the actual cost. When you consider the top reason for not purchasing life insurance is that it is too expensive, overestimating the true cost of coverage may deter many from purchasing it.
Insufficient coverage has severe consequences for many American families. Four in 10 households without any life insurance would have immediate trouble paying living expenses if their primary wage earner died.
Consumers Are Using Social Media to Gather Information
According to the survey results, there are more than 42 million consumers in the market for financial guidance. About two-thirds of those using social-media sites for finance-related topics are looking for information on product and services (62 percent), or looking for reviews on financial professionals (61 percent). Consumers, predominantly Gen X and Millennials, are using social media when assessing financial professionals; 34 percent say they would research financial professionals on social platforms.
"Our findings underscore the importance of helping consumers understand the value of these insurance products and how they contribute to one's overall financial security," noted Scanlon. "Further, given the diversity of today's consumers, our research shows advisors and insurers should leverage a variety of ways (social media, websites, mobile apps, etc.) to provide information about financial topics that can help individuals make sound financial decisions and the opportunity to read other consumers' views on these topics."
Chart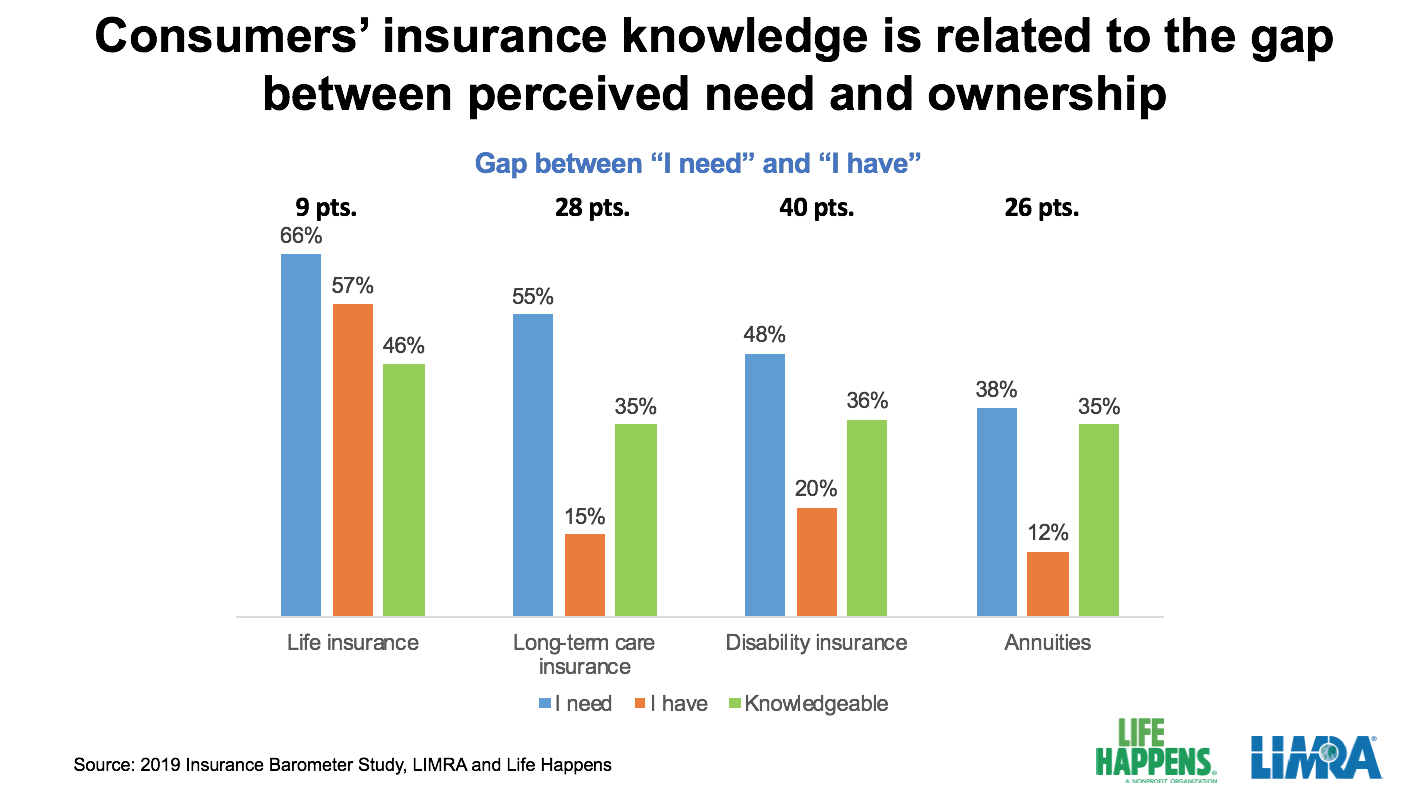 Study Methodology
The Insurance Barometer is an annual study that tracks the perceptions, attitudes and behaviors of adult consumers in the United States. In January 2019, LIMRA and Life Happens engaged an online panel to survey adult consumers who are financial decision makers in their households. The survey generated over 2,000 responses. Models used in the sample development include a propensity model to adjust for sample selection error, and weighting models to adjust for sample response error.
* For this survey, simplified underwriting is defined as making use of publicly available data for risk classification decisions for life insurance pricing, enabling purchase without requiring blood and fluids for medical testing.
About Life Happens
Life Happens is a nonprofit organization dedicated to helping consumers take personal financial responsibility through the ownership of life insurance and related products. The organization does not endorse any product, company or insurance advisor. Since its inception in 1994, Life Happens has provided the highest quality, independent and objective information for people seeking help with their insurance buying decisions. The organization supports the insurance industry by providing marketing tools and resources through its Life Happens Pro platform, and convening the industry each September for Life Insurance Awareness Month. Life Happens is supported by more than 140 of the nation's leading insurance company and financial services organizations. To learn more, visit www.lifehappens.org.
About LIMRA
Serving the industry since 1916, LIMRA, a worldwide research, consulting and professional development organization, is the trusted source of industry knowledge, helping nearly 600 insurance and financial services companies in 64 countries. Visit LIMRA at www.limra.com.
Contact
Erica Iorillo (LIMRA)
860-285-7875
eiorillo@limra.com
or
Maggie Leyes (Life Happens)
703-888-4450
mleyes@lifehappens.org